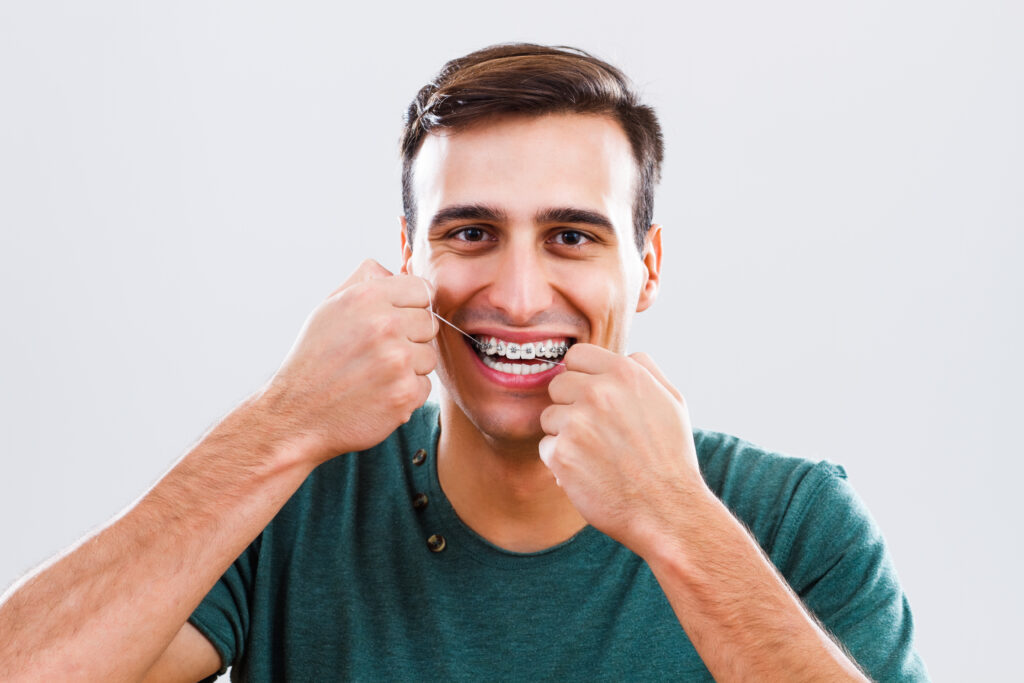 After getting a new set of braces, many people find there's a learning curve with maintaining their oral hygiene. Flossing through your new brackets and wires, in particular, may take a little more effort, but it's important: The last thing you want after enduring months or years of mouth hardware is decay on those straight new teeth.
It's important to heed your orthodontist's recommendation on products to use for cleaning between teeth and around wires and brackets. He or she can also advise you on the best brushing and flossing methods for your particular appliance. Here are some basic tips shared by our orthodontist in 71201 on flossing with braces.
Use a floss threader. This small, plastic, disposable tool allows you to weave strings of floss between your wires and between your teeth. It is an important part of the braces hygiene routine, as it allows you to floss your teeth all the way up to the gum line, where plaque can build. Flossing with a threader may require some practice to master, but it can make a seemingly difficult task quite simple.
Waxed floss or dental tape. Many dentists prefer waxed dental floss for braces because it is less likely to get caught on bracket edges and wires, and it glides easily between teeth. Dental tape, which comes in waxed and unwaxed types, may be helpful for people with large gaps between teeth.
Consider an oral irrigation device. Commonly known by the most popular brand name, Waterpik, this device delivers pulses of water to targeted areas. Although it's sometimes called a water flosser, it does not replace flossing because it does not eliminate plaque. Still, it can help remove particles of food from between brackets and teeth. It may also help prevent gum disease.
Don't floss too vigorously. Braces make gums tender, a problem that can be exacerbated by poor oral hygiene.This can create a vicious circle of pain, avoidance, and more pain. Work slowly and gently, especially at first. Be sure to rinse with mouthwash and water after flossing to dislodge food particles.
Helping children learn to floss. Flossing teeth properly can be a difficult skill for younger children to master, and it's even more challenging when they are wearing braces. You may need to help them floss at first. To make it easier, tie waxed floss to a floss threader so it doesn't slide out, and always direct the threader under the arch wire from the gum line toward the tongue. This will avoid poking sensitive gum tissue.
Proper brushing and flossing while wearing braces are vital to sustain long term oral health. Need guidance? Ready for braces? Contact our orthodontics office in Monroe, LA to schedule an appointment today.
Caples & Robinson Orthodontics